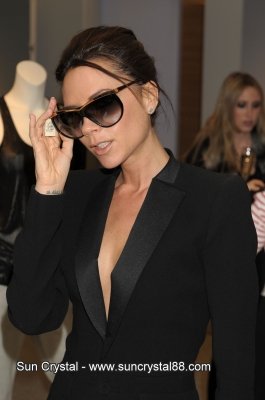 36歲的維多利亞(Victoria Beckham)懷胎4個多月,仍踩著鞋跟超過10公分的高跟鞋到處走,她每次出門都要隨身帶水晶保胎,且絕不從階梯下方走過,以免噩運上身。
  據台灣「蘋果日報」報道,預產期在7月的維多利亞告訴《Allure》雜誌,懷孕期間她的口味變得古怪。許多懷孕的好萊塢女星不約而同透露,懷孕後對食物的偏好都變了。維多利亞也自曝很迷信,懷孕後不僅改變家中風水,還相信水晶擁有超自然的力量,出門必攜帶不同顏色的水晶,借此「增強能量護身」。
  Victoria Beckham travels with crystals as she is "very spiritual".
  The 36-year-old fashion designer - who is currently pregnant with her fourth child with soccer star husband David Beckham - can't travel anywhere without a number of crystal and would never walk under a ladder, a superstition that is supposed to bring bad luck.
  She revealed: "I'm a very spiritual person. I travel with crystals. I've got all different colours. It's just something that I'm into. I am quite a superstitious person. I don't walk under a ladder. If I see a magpie, I salute."
  The famously skinny fashionista also claims to eat a lot, with her snack-of-choice being salt on toast.
  She said: "I'm not one of those people who can't eat carbs. I eat a lot, I do! Lots of steamed fish, vegetables, fruit. I really like crackers.
  "You know what else I love? Dried mulberries. They're so good; they give you so much energy. What do I crave? I love salt on toast."
  Victoria also reveals her home life with David and three sons Brooklyn, 11, Romeo, eight and Cruz, five, is full of lots of "laughing and joking", and she claims she is happier than she has ever been.
  She told Allure magazine: "It's a really happy house. There are kids running around and laughing and joking. I smile much more than people think.
  "For the first time, I feel like what you see is what you get. This is me, the more natural hair, the slightly more relaxed way of dressing."
  The former Spice Girl recently revealed she did not know the sex of her baby, but would be happy with a boy or a girl.
  She said: "We know what to do with a boy. The kids are excited about having a little brother to teach how to play soccer. But, if it's a girl, we'd be over the moon as well."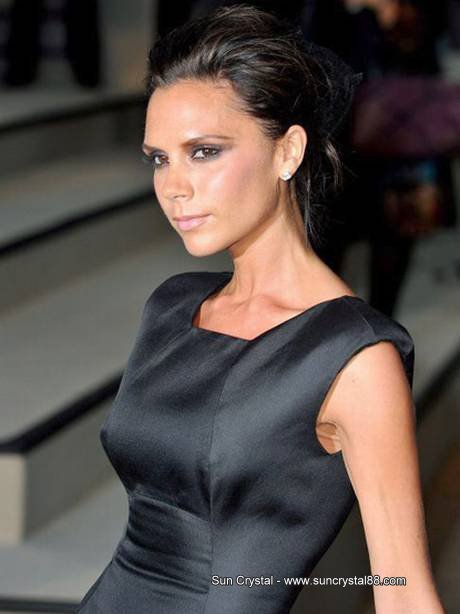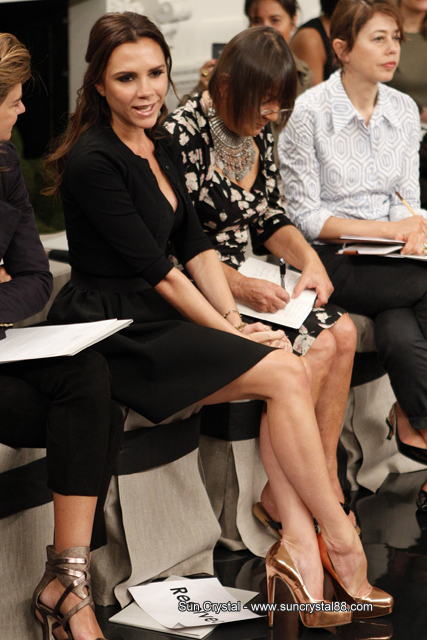 可見Victoria手上戴著水晶飾物